By Nicole Andreou
Rooftop tomatoes, planters and homegrown oyster mushrooms are not your everyday social innovator. And yet, TagTomat, an urban gardening initiative based in Nørrebro and spread across Copenhagen, is bringing out the best in us.
The pride and joy of TagTomat was – and still is – their garden installations on Griffenfeldsgade in Nørrebro. Going beyond urban gardening principles and enhancing potential, the project highlights a number of social aspects of life in Copenhagen, as well as a success story in community building.
In collaboration with the local shop owners, TagTomat set up planters, bench booths, as well as a completely new atmosphere in the street.
"The core value of TagTomat is not in the vegetables and plants themselves. It is in everything around it – the community, the knowledge generated, and the creation of urban school gardens", says Mads Boserup Lauritsen, architect, founder and owner of TagTomat.
Griffenfeldsgade has become an alternative open-space urban garden; a city showroom of what can be, with the residents – or in this case, the shop owners – responsible for maintaining the space. This urban fabric, as Mads explains it, has developed into the mechanism for providing quality community life in the public realm.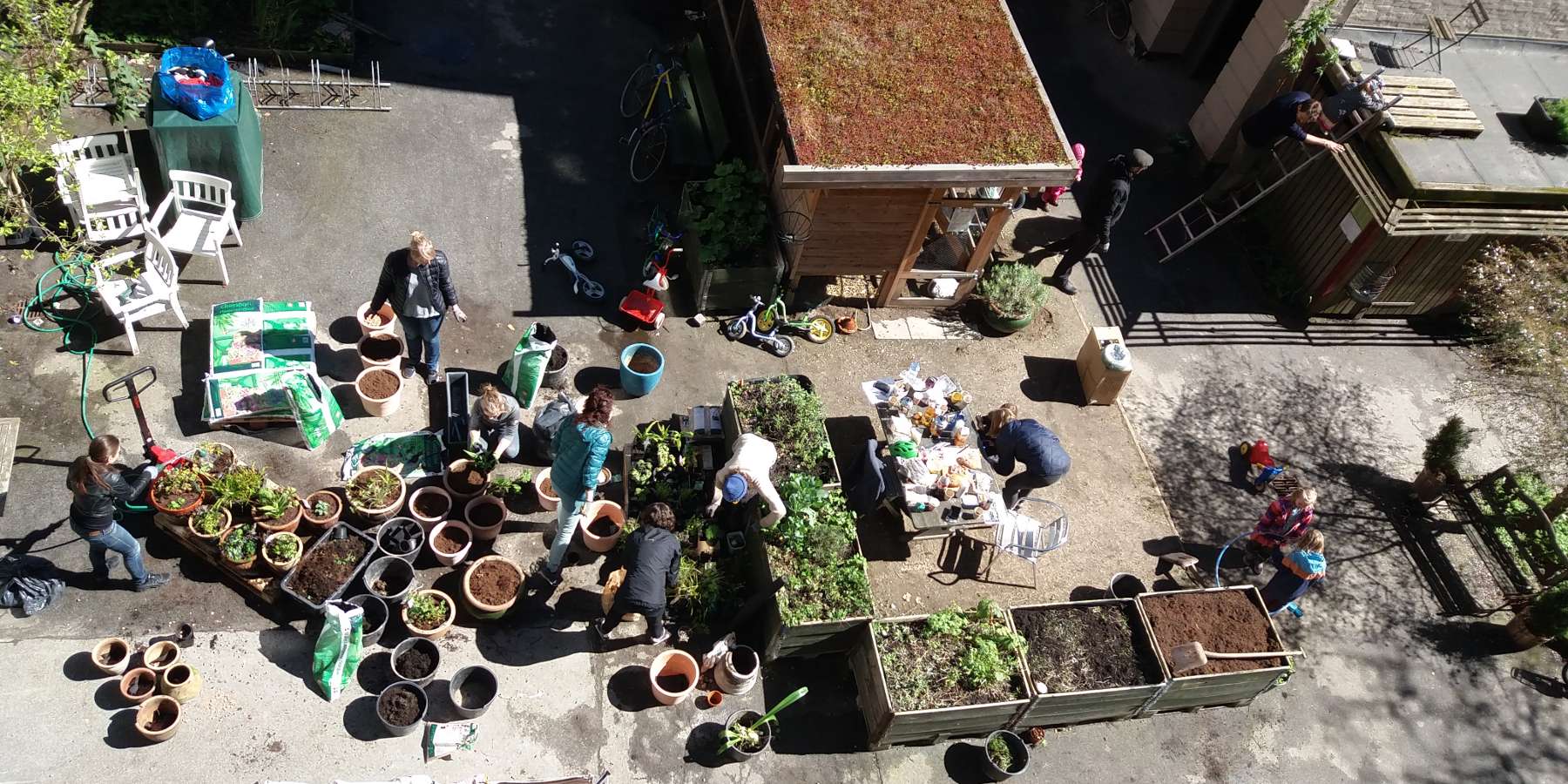 Community Action  © TagTomat
TagTomat as a community building project
From its base in the heart of Nørrebro, TagTomat reaches across Copenhagen's social structure. With bench booths, planters and local support much more is grown than mere tomatoes. A greater sense of belonging and community is spreading alongside the budding vegetables; features like wellbeing, integration and community resilience are now recognised and embraced by people involved and bystanders alike.
The urban scenery has become more than asphalt and vehicles. It now connects to social capacity as well as the residents' potential to establish collective positive behaviour and a feeling of ownership towards their immediate environment. TagTomat helped lay the foundation stone for this process – it devised a strategy for urban planning that exponentially scaled up to shape change.
Projects like this one tap into the concept of social capital and play a catalyst role in developing trust, collective responsibility and sustainable neighbourhoods.
A hobby forms a sustainable business plan
It was back in 2011 that Mads Boserup Lauritsen started growing tomatoes in his own residence block's backyard. On the roof of the recycling storeroom, he still keeps a small green space where himself and fellow residents grow the tomatoes they consume.
Between 2011 and 2014, when Mads finally registered TagTomat as a company, he held voluntary workshops in this very backyard, funded by Nørrebro Lokaludvalg. The workshops aimed at illustrating the art of urban gardening, and how Copenhageners could create their own sustainable communities. One of the first things TagTomat did to ensure its financial survival, was to produce planters that they were able to sell. The profits from sales allowed the team the time and resources to develop their green ideas, and ultimately to focus on activities connected to community engagement.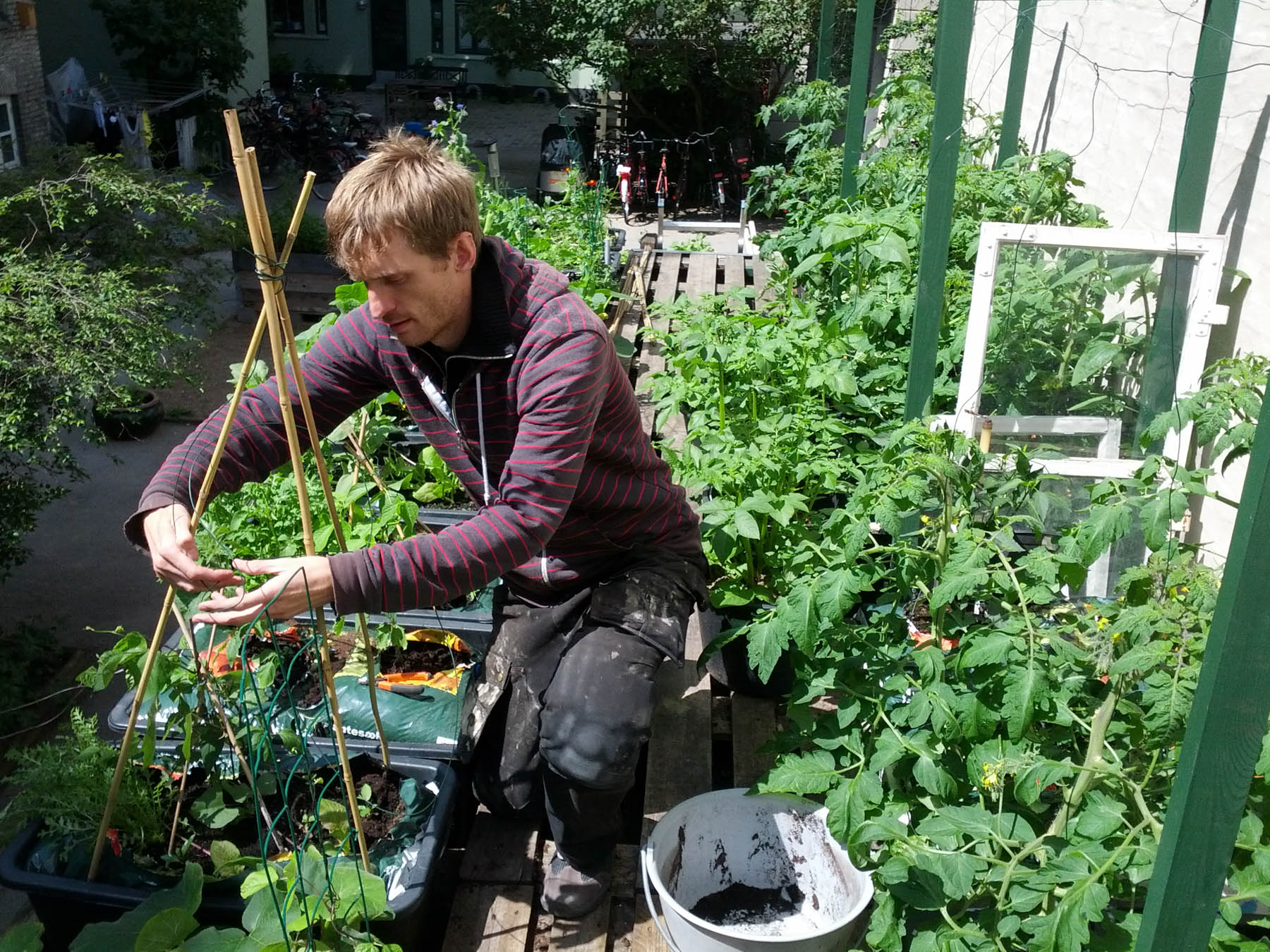 Mads at Taghaven © TagTomat
Beyond the collaboration with Nørrebro Lokaludvalg, TagTomat has also worked closely with several municipalities across Denmark. When a project expands beyond a private garden, and an entire community becomes an active part of it, it is only natural that its institutions will attempt to identify with it. In this respect, institutions often support initiatives in line with the community building cause.
Growing out of Husumgade
In the early months of TagTomat, its two-person team started with guided tours of green spaces across the city. When in August 2012 Politiken published an article about TagTomat and the idea surrounding it, the project skyrocketed. In a similar fashion Social Media as a valuable supplement campaign tool, has lent a hand in communicating and promoting the work done by TagTomat.
Nevertheless, the message advanced by TagTomat's communication strategy is not a business promotion per se. It is mostly connected to the idea that sustainability is not a foreign concept, and that creating an urban gardening open source that makes ideas, theories and applications available for uncomplicated replication is possible.
"What we do is not rocket science. It is a practical application of ideas that are free to download on our homepage. It's innovation, but it's not difficult".
If Mads had to pin down what it takes to be an urban gardener, he would ask one to take a look at their surroundings and identify the spot where they can make a difference; be it on their third floor balcony, or the City Hall square.
With an idea as simple as greening one's surroundings, TagTomat, or any other similar initiative, can really make a difference in citizen interaction. Creating a livable city, where one can bring value to an area adjacent to their private or professional setting, can be the organic way to act and react on contemporary social and environmental threats.
2018's mushroom hit
Mushroom Growing Kits have been around for some time, and have appealed to many, yet, were not as popular within the Danish market. Hence, SvampeBox (Mushroom Box), TagTomat's latest product, revolutionises home gardening in a fun way.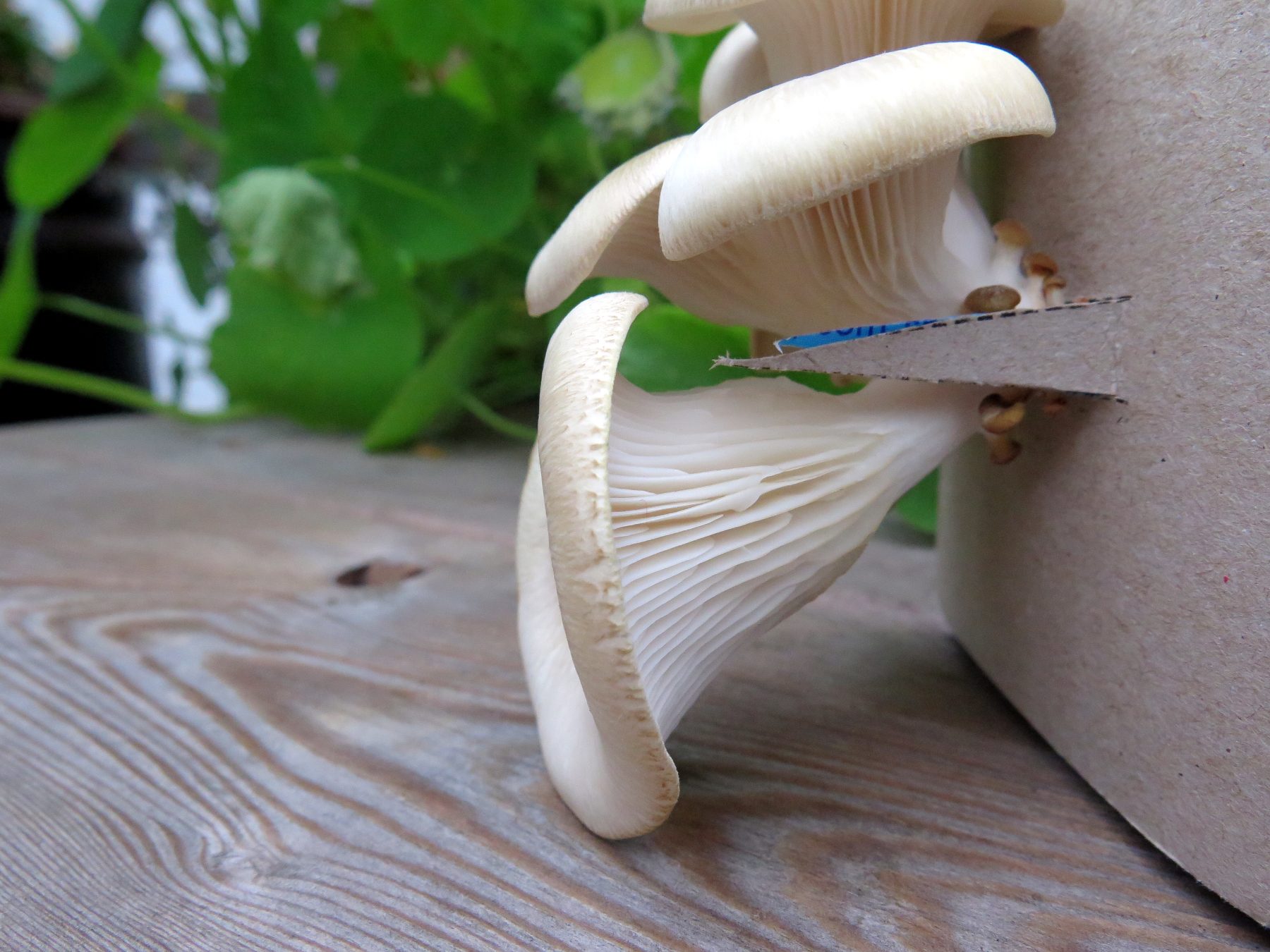 SvampeBox © TagTomat
The team has developed a very simple model for mushroom growing – mycelium and hay in a used milk carton. Then a recycled paper cover with a touch of graphics was all it took to reach the average private customer who loves oyster mushrooms.
"The more touch points we have with a person, the easier it is for them to be involved. The response was instant."
The product was developed in mid November 2017, launched in December, and TagTomat has thus far sold over 600 boxes – some even in a Christmas gift box.
Beyond engaging and truly fascinating, the mushroom project could, perhaps, be the deal sealer for sustainable family bonding!
You can:
 Visit the showroom and the rooftop tomatoes at Husumgade 2, København 2200
Visit TagTomat's webshop to initiate your own home gardening project, or participate in a masterclass
Read more: