In the Wake of Uber, a Local, Non-Profit Ridesharing Solution
The app RideAustin has reinvented ridesharing with a local, non-profit model for and by the community. Could locally developed non-profit apps be the ridesharing future?
BY MATHILDE LIND GUSTAVUSSEN
In June 2016, a new non-profit ridesharing app called RideAustin launched in Austin, Texas. The app presented itself as a local alternative to global corporations like Uber. Austin is the state capital of Texas, nestled in the state's picturesque Hill Country region. The city is renowned as a progressive stronghold in a conservative state and for its annual music and media festival South by Southwest. In recent years, it has also become a hotbed for creative industries and socially conscious startups like RideAustin.
As in many other cities across the US and Europe, Austin saw a surge in Uber activity in the years leading up to RideAustin's launch. Though Uber's business model has encountered resistance, ridesharing has become integral to any urban transit future. As a model of transit, ridesharing promotes safety while reducing car congestion and air pollution. And especially in mid-sized US cities like Austin, where the sprawl and lack of density can make it difficult to track down a taxi, ridesharing has become a convenient transit alternative for urban dwellers with smartphones.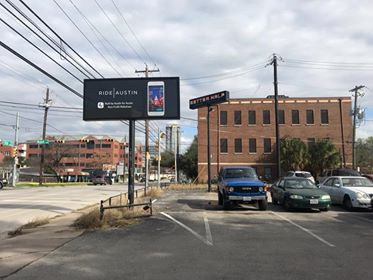 A RideAustin BILLBOARD IN CLARKSVILLE, AUSTIN
But in Austin, and in many other cities "disrupted" by the arrival of Uber, citizens and local politicians grew increasingly critical of the working conditions, poor vetting procedures, and reports of sexism and racial insensitivity at the global ridesharing app. Critics argued that Uber's business model, predicated on undercutting competitors' prices by maintaining a precarious network of freelance drivers with minimum vetting costs and no employee benefits, needed stricter regulation. Responding to these criticisms, Austin's city government initiated a process to draft new regulations for ridesharing companies.
A Referendum on Public Safety
In 2016, Austin implemented mandatory fingerprint background checks for rideshare drivers—an ordinance already imposed on the city's taxi and bus drivers. But Uber and its main US competitor, Lyft, refused to comply with these regulations, and spent $8 million on a campaign to have the fingerprint bill repealed.
When the ridesharing apps lost the citywide referendum, they left Austin, claiming the new regulations made their business untenable. While critics were happy to see Uber and Lyft go, their departure left behind a substantial gap in the urban transit market, as well as a network of unemployed drivers and stranded passengers. This paved the way for innovative approaches to ridesharing that could utilize Austin's existing infrastructure of drivers and passengers—one of those was RideAustin. Developed in just five weeks by local tech entrepreneurs, it rolled out operations soon after the global apps exited.
A Local, Non-Profit Model
The non-profit app, powered by volunteer tech workers and donations, collaborates with the city government to create a service that fits the needs, municipal safety regulations, and culture of the community. "Local rideshare apps are better because the local companies understand the local market, what makes Austin Austin" says Bobbi Komminemi, RideAustin's VP of Strategic Programs and Operations
From the beginning, RideAustin implemented fingerprint background checks of its drivers. "RideAustin is the only rideshare in Austin that provides 100 percent fingerprinting of drivers. All our drivers go through the same vetting process as other municipality-regulated transportation companies," says Bobbi Komminemi. As an additional safety feature, the app's "Female Driver Mode" allows women to request female drivers. And to promote transparency and encourage research into ridesharing, all RideAustin's data is published on the website data.world.
As a non-profit ridesharing alternative, RideAustin doesn't take a cut of the fare—Uber and Lyft, on the other hand, take cuts of 20 to 25 percent. This structure allows RideAustin to offer higher wages to its drivers and cheaper rides to users.
The app also encourages charitable donations through the "Round Up" feature, which enables riders to round up their charges to the nearest dollar and donate the rounded-up sum to local charities and cultural institutions (over $250,000 dollars were donated in its first year). Soon, RideAustin plans to offer free or low-fare rides to ill, elderly, or low-income Austinites, in the belief that ridesharing should be for everyone.
In another effort to support the community, RideAustin has founded the initiative ATX Alliance. Partnering with a host of Austin businesses, they promote shopping, eating, and driving local to "Keep Austin Austin" and protect local businesses, as more global corporations enter the rapidly growing state capital.
The Return of Uber and Lyft
In its first year, RideAustin facilitated over 2 million rides. In 2017, however, Uber and Lyft returned to the city. A year after the citywide fingerprint referendum, the Republican state legislature overturned Austin's regulations, and implemented statewide, more lenient regulations for ridesharing apps. Upon their return to Austin, Uber and Lyft enticed drivers and passengers to return to their platforms by offering cash and (temporary) higher fares to drivers and discounts to passengers.
The return of Uber and Lyft forced some of Austin's alternative ridesharing apps to shut down. RideAustin, however, has established itself as a viable alternative to the global apps. Although its users have declined over the past year, a loyal following of Austinites, continue to "drive local" with RideAustin.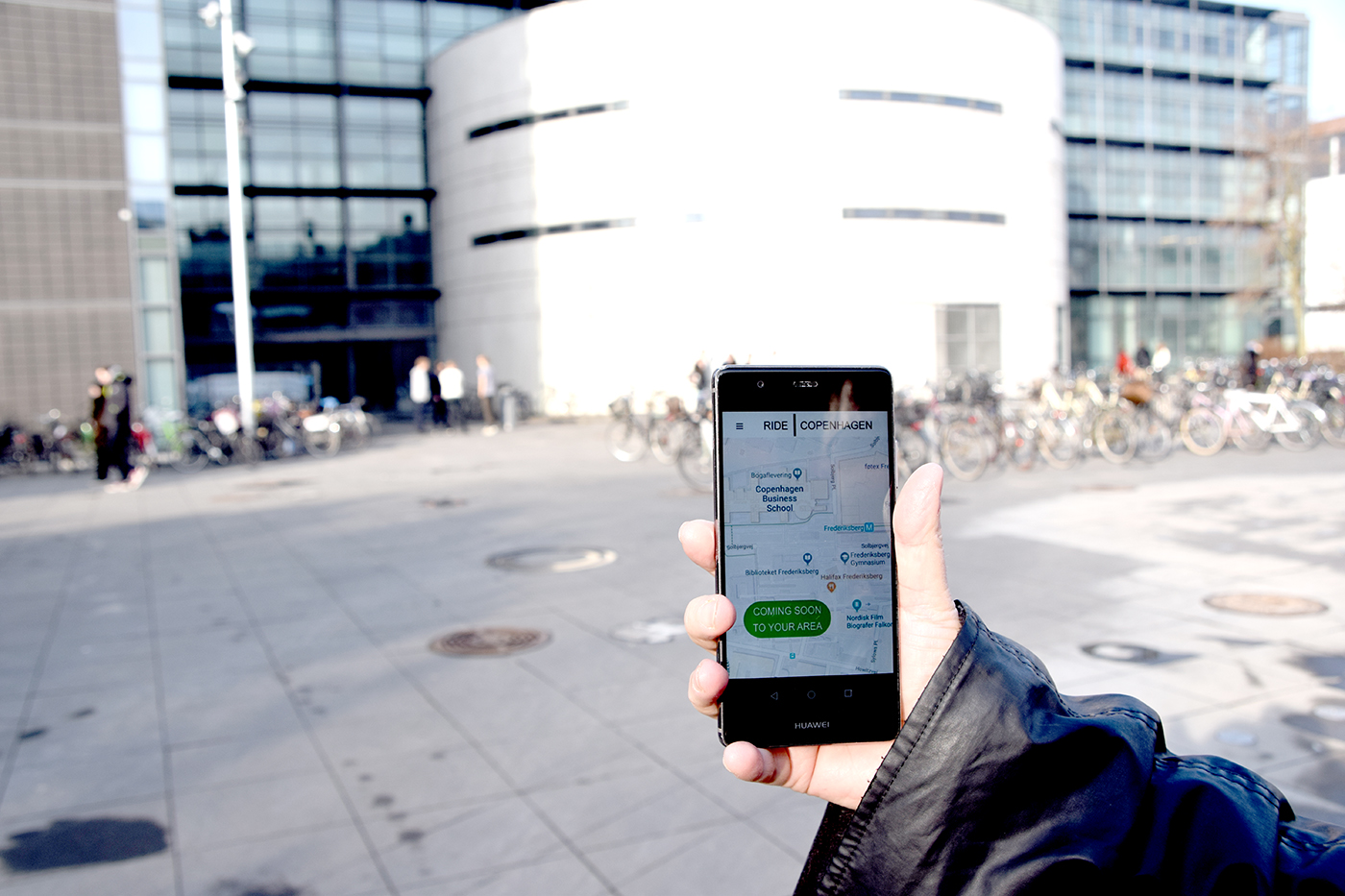 "RideCopenhagen" COULD BE THE FUTURE OF RIDESHARING IN DENMARK
The Future of Ridesharing in Denmark
A similar scenario has played out in cities across the world. Municipalities like London, Vancouver, and Taiwan have passed legislation to regulate ridesharing apps, prompting their departure.
In March 2017, Uber left Copenhagen. Uber refused to conform with local safety regulations, report drivers' taxable income, and allow collective bargaining—key components of the "Taxi Law" passed by an overwhelming majority of Danish parliament in February 2017. This legislation intended to force Uber's compliance with existing taxi-company regulations. Uber, however, argued it would imperil the company's business model and left the Danish capital.
Since Uber's departure, the average wait for a taxi has increased by 84 percent, and Copenhagen has seen a surge in underground and unaffiliated cabs, dubbed "pirate taxis" by locals. To address this problem, Copenhagen could look to RideAustin and develop a non-profit alternative that fits Danish regulations and needs—including unionization and collective bargaining.
In Copenhagen, Uber built an infrastructure of 2,000 drivers and 300,000 passengers that carried out over 500,000 rides in 2014 and 2015. While Uber's platform was created to "disrupt" the Danish transit model, a locally developed app could harness the existing infrastructure to establish a viable ridesharing model developed by and for the community. Such a model could allow the city to reap the social, environmental, and economic benefits of ridesharing—while keeping Copenhagen Copenhagen.